New technologies such as 3D printing have the potential to change the way that planners, urban designers and architects work, by helping them to operate more efficiently and allowing them to show their ideas spatially.
Planning TV's tech correspondent Kadine James is joined by Jamie McKie from Dentons' Planning and Public Law Team to talk about new opportunities for public engagement in the planning process.
Kadine also went to Barking Riverside to meet Matthew Carpen, Executive Director of Barking Riverside and to look at the UK's largest 3D printed masterplan, which shows how a new development is underway to bring over 10,000 new homes to a part of East London.
Dentons Planning TV is a new and innovative platform for engaging in and reacting to the latest developments in the dynamic world of planning. Its mission statement is simple: to provoke debate and facilitate engagement at all levels in the planning process.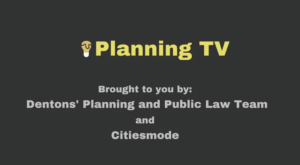 Brought to you by Dentons and Citiesmode it draws on the knowledge of a core panel of experts from across the sector, supplemented with special guests hand picked for their particular expertise. From Greenbelt to Brownfield, national planning policy to local plan-making and everything in between, Dentons Planning TV provides a unique insight into the thoughts of those involved at the sharp end.