See all of our Planning TV posts
Dentons Planning TV is a new and innovative platform for engaging in and reacting to the latest developments in the dynamic world of planning. Its mission statement is simple: to provoke debate and facilitate engagement at all levels in the planning process.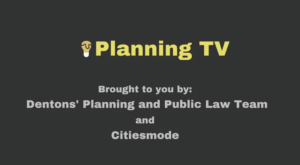 Brought to you by Dentons and Citiesmode it draws on the knowledge of a core panel of experts from across the sector, supplemented with special guests hand picked for their particular expertise. From Greenbelt to Brownfield, national planning policy to local plan-making and everything in between, Dentons Planning TV provides a unique insight into the thoughts of those involved at the sharp end.
Dentons is the world's largest law firm, delivering quality and value to clients around the globe. Dentons is a leader on the Acritas Global Elite Brand Index, a BTI Client Service 30 Award winner and recognized by prominent business and legal publications for its innovations in client service, including founding Nextlaw Labs and the Nextlaw Global Referral Network. Dentons' polycentric approach and world-class talent challenge the status quo to advance client interests in the communities in which we live and work. http://www.dentons.com/.
Citiesmode is an urban planning training and information resource. It is independent, useful and animated. The website includes quick links to local planning information, useful resources and tools for planners, talks and presentations on planning issues and video-based online training.