Localism remains a political priority.  The introduction of Neighbourhood Planning and the ability to nominate Assets of Community Value via the Localism Act 2011 has given communities powerful tools to control development locally.
The importance of Neighbourhood Plans has been emphasised by recent Secretary of State decisions on appeal, with several applications refused where they were considered to prejudice emerging plans, and permission granted for sites allocated in neighbourhood plans before the adoption of local plans. The initial protection provided by designated Assets of Community Value has also been expanded, with some permitted development rights removed from pubs which are listed.
These Localism measures are now being employed by communities to oppose large projects of importance to the Government.  Adjacent to Heathrow Airport, the villages of Sipson, Harmondsworth and Harlington have set up the Heathrow Villages Forum.  Having received a grant of £7,000 to create a neighbourhood plan, they have set the proposed boundary and are planning to submit it to the London Borough of Hillingdon for designation as a neighbourhood plan area.  One of the key issues identified is that the area is "blighted by the spectre of Heathrow airport expansion", suggesting the likely approach of the Neighbourhood Plan towards expansion.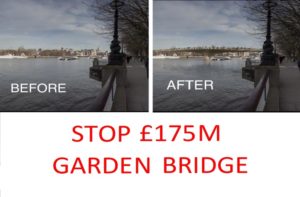 Meanwhile, Thames Central Open Spaces, a group opposing the Garden Bridge, have successfully nominated the area of the Queen's Walk, proposed as the landing site of the Garden Bridge on the South Bank, as an Asset of Community Value.  This means that before the freehold of the land is transferred, or a lease of the land of more than 25 years is granted, in each case to allow the construction of the bridge, the land will first have to be offered to the community.  If a community interest group expresses an intention to submit a bid in the initial 6 week moratorium period, a further four and a half month moratorium will be triggered.  Only after that moratorium can the land be sold or leased.  Although there are ways to avoid the constraints, given the tight timescale for construction of the Garden Bridge, to fit with the Thames Tideway Tunnel construction, this delay could potentially cause issues.
How these local challenges are dealt with on large and politically prominent projects will be an interesting test of the Government's commitment to Localism.  This is particularly topical following the Queen's Speech announcement that planning applications for wind farms over 50 megawatts will be decided by local councils rather than under the Nationally Significant Infrastructure Projects regime, and the recent Ministerial Statement requiring proposals for wind energy development to be refused planning permission unless the site is identified in a Local or Neighbourhood Plan, and the proposal has the backing of affected communities.  Are we really entering a phase of power to the people?
Subscribe and stay updated
Receive our latest blog posts by email.